Flexible Open Source PIM system
Product Information Management
Product Information Management (PIM), is an essential tool when you need to manage a large number of products, that are marketed and distributed across multiple business channels and systems. Consistent product information and high data quality is essential for delivering a great customer experience.
PIM system built for your needs
When creating a PIM platform with 1xINTERNET we make sure all your business demands are met. We analyze with you, how to consolidate the product information into a single system, and how to distribute the data securely back into other systems.
The product data can be assembled in various ways to serve marketing channels (e.g. catalogues), sales systems (e.g. e-commerce, POS), or other systems that rely on product data (e.g. procurement systems).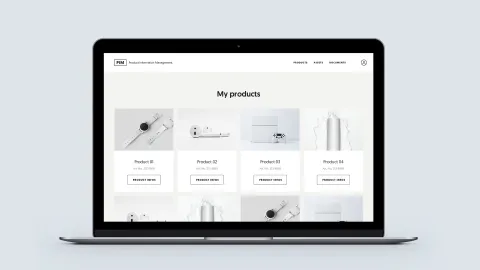 1x PIM is a powerful, but easy to use solution that consolidates your product information in a central place, and integrates in any IT landscape.
Why rely on 1x PIM solution?
Our solution is built on the widely adopted open source software Drupal. This offers a solid foundation for customizing your PIM solution to any business requirements. 1x PIM comes with powerful APIs to integrate with your digital ecosystem,  it is fast, secure, and scales up to unlimited data objects.
With our powerful PIM in place you can focus on marketing and selling products through your different distribution channels, regardless of wether they are your own e-commerce site,  Amazon- or Google marketplace, or even social media platforms such as Instagram and Facebook, where sales opportunities are constantly growing.
Solutions
Data consistency
Maintaining data consistency and quality across all digital channels is important for effective work flow. 
Editorial workflows
Power editorial workflows, to make every day work more effective and enjoyable. 
Fast search
Lightning fast search and product information discovery becomes easy. Essential and useful feature in everyday work.
Easy to use UI
Beautiful and easy to use UI makes our 1x PIM outstanding for users. 
Integration into other systems with REST APIs 
With REST API's integration to  DAM, MDM, CMS, E-Commerce becomes easy.
Build on 100% Open Source
That means, no licence cost and no vendor lock-in and freedom regarding whom to work with.
Customers using 1x PIM system

More Features of 1x PIM
Arbitrary data subsets for third party systems
Display of outdated and missing data
Versioning and archiving of files
Classification of data (collections, type, usage, etc.)
Hierarchical organisation of files in folder like structures
Bulk editing of products
Collaboration on digital assets
Granular permissions and user roles
Integration with any SSO provider (SAML, OpenID Connect, etc.)
Secure storage and access
Frequently Asked Questions about PIM
PIM is an acronym for product information management, and MDM is an acronym for master data management. As the names imply a PIM is focused around product information, where MDM is focused on all data. Both can be done with 1xPIM, and in our experience there is no clear dividing line: Often systems are planned as a PIM but manage much more data in the end, in other cases general informatin management systems show there strength in organizing product data.
Our software is built with the enterprise open source framework Drupal. To us Open Source is a powerful mechanism and we apply it to all our software. Read more about it here. For our customers this means, that any software we provide is handed over with all necessary usage rights and is free to be modified, extended and uses in any desired way. There is no vendor lock in and we do not change licence cost.
Related Content and Solutions
Digital asset management solutions (DAM) store objects like photos, images, videos, audio-files, presentations, design files etc. and make them available to other systems. With 1xINTERNET's DAM software, you stay organized and have your digital assets in one place under control.
Read more

about this: 1xDXP - DAM Software
We help you with the implementation of your e-commerce solution to setting up classic online shops, marketplaces, individual B2B order portals etc.
Read more

about this: 1xDXP - E-commerce solution
Build up a powerful Social Intranet Solution with 1xINTERNET. With a powerful Intranet solution based on Drupal we support you in creating a sustainable information flow in your company.
Read more

about this: 1xINTRA - Social Intranet Software